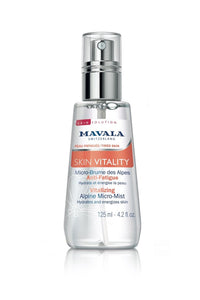 Hydrates and energizes skin.
Lack of sleep, stress, pollution, UV or smoking exhaust your skin metabolism. Dead cells accumulate, your complexion loses its radiance and turns greyish. Those imperfections caused by exhaustion give the impression that your skin is in poor health, that it looks, older than it really is.
SKIN VITALITY Alpine Micro-Mist diffuses a particularly fine mist on the skin, vitalizing and decongesting it.