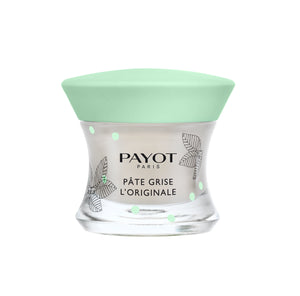 For over 70 years, Pâte Grise L'Originale is the ideal skincare to bring small blemishes to a maturation phase. Anti-blemish secret transmitted from generation to generation, its secret formula Dr Payot works while you sleep to accelerate the maturation of minor sub-cutaneous spots and make them disappear!
The calming qualities of sweet almond immediately soothe the skin. The shale extracts visibly control excess sebum and help reduce the appearance of small, daily blemishes.
The zinc oxide directly soothes sensitive areas and absorbs excess sebum. Facial skin is once again clean and clear.
On cleansed skin, apply a thick layer at night locally on small spots. Use Spéciale 5 in addition to dry blemishes and Stick Couvrant Pâte Grise for camouflage.