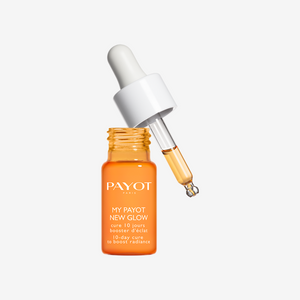 My Payot New Glow is a pure Vitamin C treatment for an intense glow in 10 days. 1 application each evening refines and smooths the skin texture. This orange-colored fresh gel texture is highly concentrated in pure Vitamin C (12%) and this fresh formula is protected in an extemporaneous bottle.
Use it 3 to 4 times a year when the seasons change; when facing a lack of sleep or times of stress.
Apply  this fresh gel every evening for 10 consecutive days to thoroughly cleansed skin on the face and neck before your usual cream.
Avoid the eye contour area and do not use for more than 10 days.