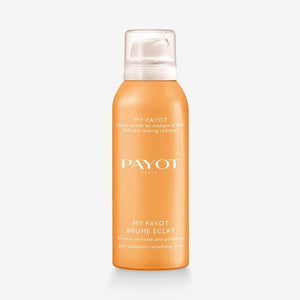 My Payot Brume Eclat is a light, airy water mist that refreshes and invigorates. It is a real multi-purpose tool in your beauty belt that can be used throughout the day.
Formulated without alcohol, My Payot Brume Eclat protects your skin from pollution and can be used: - in the morning under your day cream to wake up and stimulate the skin - over your make-up as a final touch to set your look - over the course of the day to refresh, hydrate and protect your skin from pollution - in the evening before your night cream to intensify its regenerative properties.
One spray leaves skin moisturised, invigorated and protected from pollution—simply radiant!
My Payot Brume Eclat can be taken anywhere with you. Apply it before your makeup or at any time of the day for a pleasant sensation of freshness.
Hold the mist 15 cm from the face and spray before applying moisturiser at any time of the day.