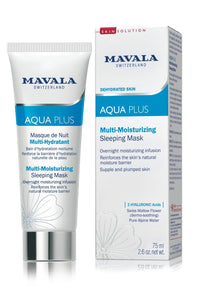 Overnight moisturizing infusion.
Dehydrated skin lacks moisture. It feels tight and wrinkles appear prematurely. Less protected by a thinner cutaneous barrier, it is more reactive and more likely to redden. 
A truly nocturnal moisturizing infusion, AQUA PLUS Multi-Moisturizing Sleeping Mask helps the skin restore its water reserves and reinforce the protecting cutaneous barrier. No-rinse concentrated night mask, its silky formula, lightly film-forming, diffuses the benefits of its ingredients overnight, allowing the skin to perfectly breathe at the same time.