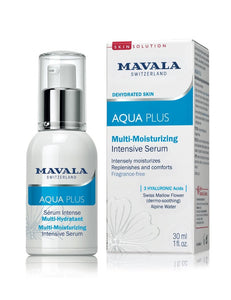 Intensely moisturizes, replenishes and comforts.
Dehydrated skin lacks moisture. It feels tight and wrinkles appear prematurely. Less protected by a thinner cutaneous barrier, it is more reactive and more likely to redden. 
AQUA PLUS Intensive Serum is a true concentrate of multi-moisturizing effectiveness. Highly concentrated in pure Hyaluronic acid, which is naturally present in the skin and is capable of attracting up to 1000 times its weight in water, its formula penetrates the layers of the epidermis to intensely and lastingly re-infuse the skin with moisture.