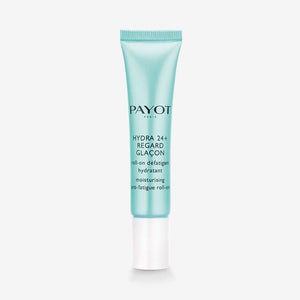 The moisturising and anti-fatigue roll-on, ideal for the delicate eye contour. The freshness of the texture combined with the metal ball massage applicator instantly refreshes, removes signs of tiredness and smoothes the eye contour.
Moisturised, protected and refreshed, the eye contour is incredibly smoothed and rested and the eyes look brighter. Smart and handy, Hydra 24+ Regard Glaçon for the delicate eye contour area is fitted with a metal ball massage applicator that weaves its way through tiny wrinkles, boosting the fresh sensation for surprising and long-lasting results!
Apply to the eye contour every morning and evening.