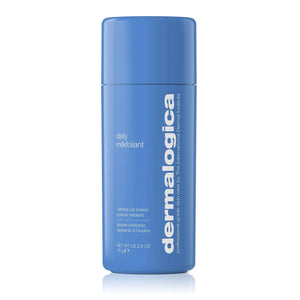 Meet Dermalogica's latest skincare innovation...
This calming oat-based powder exfoliant provides a peaceful way to exfoliate, smoothing and soothing the skin.
The exfoliating powder is designed to be used daily and will not compromise skin health. It's a harmonious blend of coconut milk and oat polishes and reveals more vibrant skin whilst supporting the skin's moisture barrier. Without microfoliation, skin can be dull-looking and rough feeling. Daily Milkfoliant relieves skin with calming and soothing ingredients.
Key ingredients:
Coconut Milk smooths for softer skin.
Alpha Hydroxy Acids (AHAs) + Beta Hydroxy Acids (BHAs) help polish away dead skin cells.
Papain Extract helps to resurface the skin.
Saccharide works with Atomized Sea Salt and Hyaluronic Acid to help support the skin's moisture barrier.
Oat Bran Extracts replenish and help soothe skin.