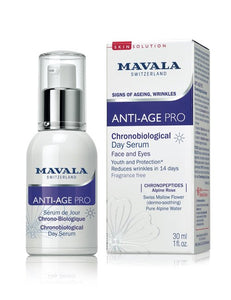 Visibly reduces the appearance of wrinkles.
Your skin follows a very precise biorhythm: it defends itself during the day, and renews itself at night. Lack of sun exposure or sleep, stress, pollution or smoking can disrupt the proper functioning of the skin biorhythm. Skin becomes less resistant, dehydrated and wrinkles set in.
ANTI-AGE PRO Day Serum penetrates into the skin to protect it from daily stresses and correct the look of wrinkles in just 14 days.