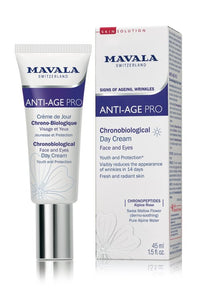 Youth and protection for a fresh and radiant skin.
Your skin follows a very precise biorhythm: it defends itself during the day, and renews itself at night. Lack of sun exposure or sleep, stress, pollution or smoking can disrupt the proper functioning of the skin biorhythm. Skin becomes less resistant, dehydrated and wrinkles set in.
ANTI-AGE PRO Day Cream is a cocoon-like velvety cream which ensures both rejuvenating and antioxidant efficacy. Under the "protective bubble" lasting until the evening, the skin gains youthfulness and glow.