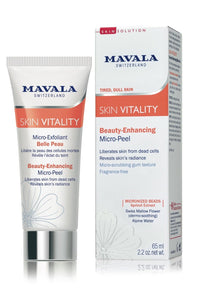 Liberates skin from dead cells and reveals its radiance.
Lack of sleep, stress, pollution, UV or smoking exhaust your skin metabolism. Dead cells accumulate, your complexion loses its radiance and turns greyish. Those imperfections caused by exhaustion give the impression that your skin is in poor health, that it looks, older than it really is.
Beauty-Enhancing Micro-Peel is a creamy gum-like scrub that gently liberates the skin from dead cells and stimulates micro-circulation for an immediate radiance.