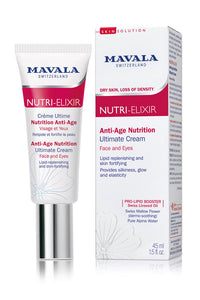 Provides silkiness, glow and elasticity to the skin.
Dry or mature skin does not produce enough lipids. Its barrier function is impaired, leading to a moisture loss and greater vulnerability to harmful environmental factors. The skin becomes fragile, thinner and ages prematurely.
NUTRI-ELIXIR Anti-Age Nutrition Ultimate Cream is a lipid replenishing and fortifying skin fusion oil-cream which provides silkiness, glow and elasticity to dry skin losing density. It helps the skin regain comfort, youth and vitality.