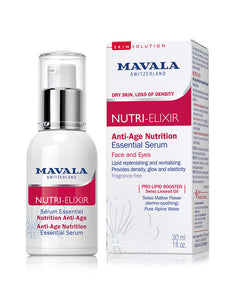 Improves skin density, glow and elasticity.
Dry or mature skin does not produce enough lipids. Its barrier function is impaired, leading to a moisture loss and greater vulnerability to harmful environmental factors. The skin becomes fragile, thinner and ages prematurely.
NUTRI-ELIXIR Anti-Age Nutrition Essential Serum is a pure concentrate of lipid replenishing effectiveness. This crystal like oil-serum intensely revitalises the driest skin. It provides density, glow and elasticity from the first applications.