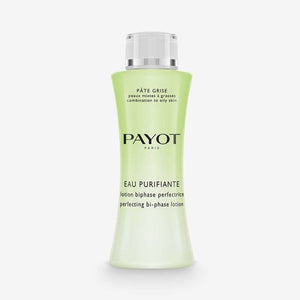 As the inheritor of the Pâte Grise L'Originale formulation secrets, Pâte Grise Eau Purifiante is specially designed for combination to oily and blemish-prone skin. Its two-phase formula combines the benefits of a purifying lotion and mattifying powders, for completely flawless skin.
Its fresh lotion, with Chilean mint extracts and salicylic acid eliminates excess sebum, tightens the pores and stimulates desquamation to refine the skin texture.
Its fine absorbent zinc powders have a natural antibacterial effect and sebum-regulating properties, with a long-lasting mattifying effect.
The skin is free of impurities, its freshness and radiance are restored. Free of irregularities, even bare, the skin is perfect.
Beauty Tip: Shake, shake, shake. Shake well your Pâte Grise Eau Purifiante before use to mix all fine absorbent zinc powders. 
Apply using a cotton pad to the entire face and neck, morning and evening.